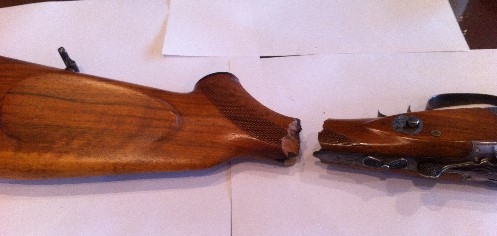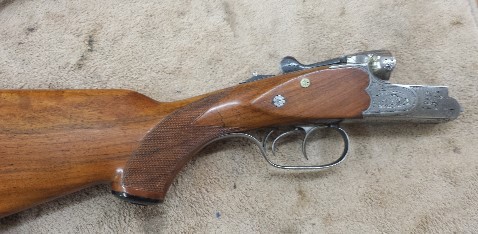 Copyright 2002-2018 gunstockmaker.com | All Rights Reserved.

Shipping a firearm can be a little scary for first timers, but let me assure you that it is the very rare exception that receives trouble. Guns are shipped and received every day without delay, damage or lose. I am an FFL holder and Gunsmith and therefore can receive guns "for repair" from the owner. If the entire gun is needed for the work you may send it to me directly, when the repairs are completed I will ship the gun back to you, an FFL to FFL transfer is not required for this transaction.


Please include the Following with your Shipment:
Your contact information; a note explaining what you would like to have done; return shipping address. I suggest your note include your name, identification of the gun, and a statement that you are the owner and you are sending it to a gunsmith for repair service. My final quote to you will be done after I have had time to inspect the piece. Your payment for 1/2 of the final quote will be required prior to work commencing. With the stock please include at a minimum, the grip cap and butt plate/recoil pad.

My charge for return shipping varies with the weight and size of the gun or stock, the charge also includes my time to handle and insure the item. Costs are usually from $25 to $50 dollars. Return Shipping is via FED EX or US Mail unless you indicate otherwise. My return shipping includes $500 worth of insurance.

Shipping Methods UPS, Fed-Ex and US Mail all work fine. Each has its pluses and minuses. Priority Mail works well, and will get a package to me within three days from anywhere in the US. Lately I have been using FED EX and I am very satisfied with their service and cost.


Insurance, Boxes, and Stuff
I suggest you get your shipment insured. Use a decent box and make sure the box is fortified someway or is very sturdy cardboard. You may be able to place a delicate fore end into a PVC pipe. Use good packing material. I suggest you do not use a gun box that identifies the contents as a firearm or firearm parts.
If you are thinking about sending me your stock in a gun case, be aware that UPS will charge you extra for using a non cardboard box.



Stockmaker
17 Oak Lane
Burbank, WA 99323